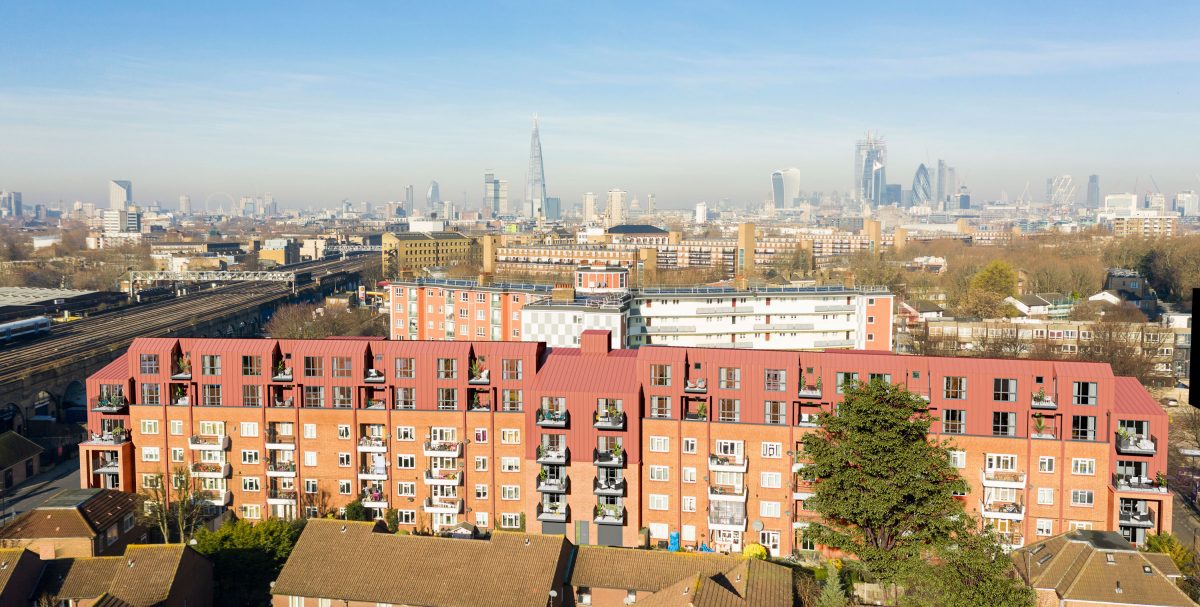 ---
We commenced work on the 30 affordable Bermondsey homes on the 25th January 2021.
The new affordable homes and improvements to Antony House & Roderick House in Bermondsey, south London, are being developed in partnership with Lambeth & Southwark Housing Association on top of, next to, and connecting the two existing residential buildings.
The homes will offer a mixture of one and two-bedroom apartments. The property will be highly insulated, water and energy-efficient, helping reduce energy bills for all residents. The external wall construction of the new flats will be non-combustible to a level exceeding Building Regulations requirements. The new design will also help to address issues of overcrowding in the existing buildings by providing flexibility for existing over and under occupation. All the new homes are affordable, with 24 offered as London Affordable Rent, and the remaining six offered for Southwark Council's Social Rent. The new development includes 'bookends' at each end of the existing buildings, a new central core connecting the buildings, and a double-storey rooftop extension.
The year long project is set for practical completion in February 2022, offering an interesting blend of LGS based modular construction on the rooftop units and on-site LGS panelised for the bookends and infill. Initial works will remove the existing pitched roofs before a structural steel exoskeleton is positioned over the existing building. Once this is in place, the modular apartments will be installed onto the rooftop.
All 30 units will be built off-site using modular methods, ensuring high-quality homes and doubling the speed of construction. This approach means less disruption to existing residents who will also benefit from many improvements to the current accommodation including the introduction of an elevator, a new communal entrance, a landscaped forecourt, extra lighting, cycle storage, and improved refuse and recycling spaces.
With the buildings' roofs already due for major rework, Antony & Roderick has saved LSHA around £400,000 in replacement costs over the next three years. In addition, the creation of new homes has the potential to generate balance sheet leverage of approximately £4m, which could be used to fund additional new homes.
Arshad Bhatti, CEO at Apex Airspace, said:
"Having worked closely with Lambeth and Southwark Housing Association and HTA, we are delighted get underway with 30 new affordable homes and significant improvements at Antony & Roderick House in Bermondsey. Our collaboration with LSHA demonstrates our ability to unlock a previously untapped supply of affordable housing in London and be able to deliver policy compliant rented accommodation in partnership with local authorities and housing associations.
"At Apex, we set out to make a tangible difference to the residential landscape in London and to address the UK's housing shortage. It's fantastic to see our vision become a reality in projects such as Antony & Roderick redevelopment, offering vital, affordable new homes in the capital. Our pioneering model is a blueprint for other councils and housing associations to follow suit and adopt innovative solutions to address the lack of affordable housing in London."
Jonathan Poole, Construction Director, Apex Airspace, said;
''We look forward to working through the build stage with Adston as our Design and Build Contractor for the development of Antony and Roderick House. The 100% affordable development of 30 new homes will be the UK's  first airspace project to be built on top of and connecting two existing residential buildings. The modular construction will save the residents from normal construction works disruption, particularly with the limited space surrounding the exisiting building.''
David Rainey, Client Relationship Manager, Adston Construction commented;
''Antony and Roderick House is a fantastic project to be involved in and Adston are delighted to be appointed by Apex Airspace for the design and delivery of these new homes. This is an innovative and new direction in the expansion and extension of existing buildings, and we believe the first of many sustainable and affordable residential developments of this type.''
Mark Jackson, chief executive at LHSA, said:
"It's great to see works begin on these much-needed affordable properties in Bermondsey. Apex's development methods are both innovative and efficient which is what the housing landscape in London desperately needs. We are able to deliver high quality and affordable homes improving and expanding the current building. Offsite modular construction means the disruption to current residents will be significantly reduced. As a housing association we need to ensure we are maximising our existing stock in the capital. We have been impressed by Apex's model and feel this is a tangible solution for fellow housing associations to consider."