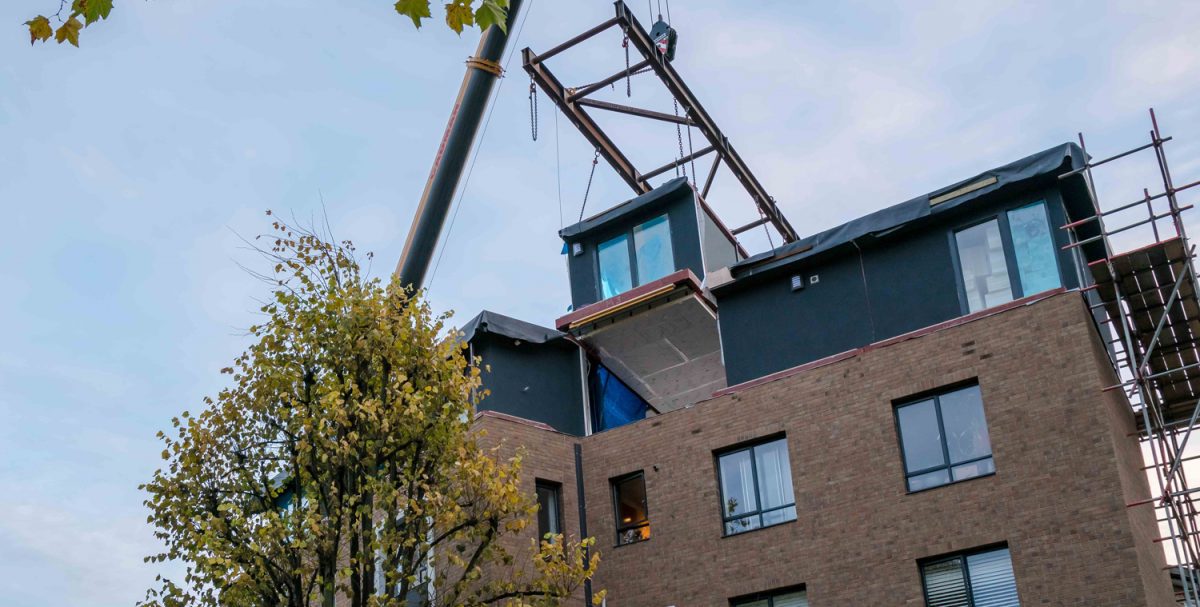 ---
Apex Airspace identified airspace development as a multi-billion-pound residential market in London. 
Pioneering the creation of new homes on London roof-tops, the company now leads this development niche as a disruptive new asset class in housebuilding. Apex Airspace has secured £28 million from the Business Growth Fund, Homes England and the Mayor of London.
What is airspace development?
Airspace development describes a technique whereby unused space on rooftops of existing buildings is converted into new homes.
Using the latest construction techniques, airspace homes can be manufactured almost entirely off-site in factories to a high specification, and constructed on the rooftops in a matter of days. This type of development has been hailed as an innovative solution to housebuilding, which crucially doesn't encroach on green belt land.
Development of a building's airspace can only be successful if it fits in with the rest of the building and the area, it's vital to ensure changes are respectful of the existing architecture. This could be by enhancing the communal areas and by improving amenities like lifts and cycle storage, which benefits all residents, as well as bringing the building up to modern health and safety design standards.
New airspace developments are sprouting across London. At Apex Airspace alone we're in discussions on some 2,200 homes across the public and private sectors, and our research has found that London eventually has the capacity for 180,000 airspace homes.
What is property development?
Property development is a multifaceted business process, encompassing activities that range from the renovation and re-lease of existing buildings to the purchase of raw land (or airspace above rooftops of existing buildings) and the sale of developed land or parcels to others. Real estate developers are the people and companies who coordinate all of these activities, converting ideas from paper to real property.
Real estate development is different from construction, although many developers also manage the construction process. Developers buy land (or airspace), finance real estate deals, build or have builders build projects, create, imagine, control and orchestrate the process of development from the beginning to end. Typically, developers purchase a tract of land (or airspace), determine the marketing of the property, develop the building program and design, obtain the necessary public approval and financing, build the structures, and rent out, manage, and ultimately sell it.
Sometimes property developers will only undertake part of the process. For example, some developers source a property get the plans and permits approved before on selling the property with the plans and permits to a builder at a premium price. Alternatively, a developer that is also a builder may purchase a property with the plans and permits in place so that they do not have the risk of failing to obtain planning approval and can start construction on the development immediately.
Developers work with many different counterparts along each step of this process, including architects, city planners, engineers, surveyors, inspectors, contractors, leasing agents and more. In the Town and Country Planning context in the United Kingdom, 'development' is defined in the Town and Country Planning Act 1990 s'55.