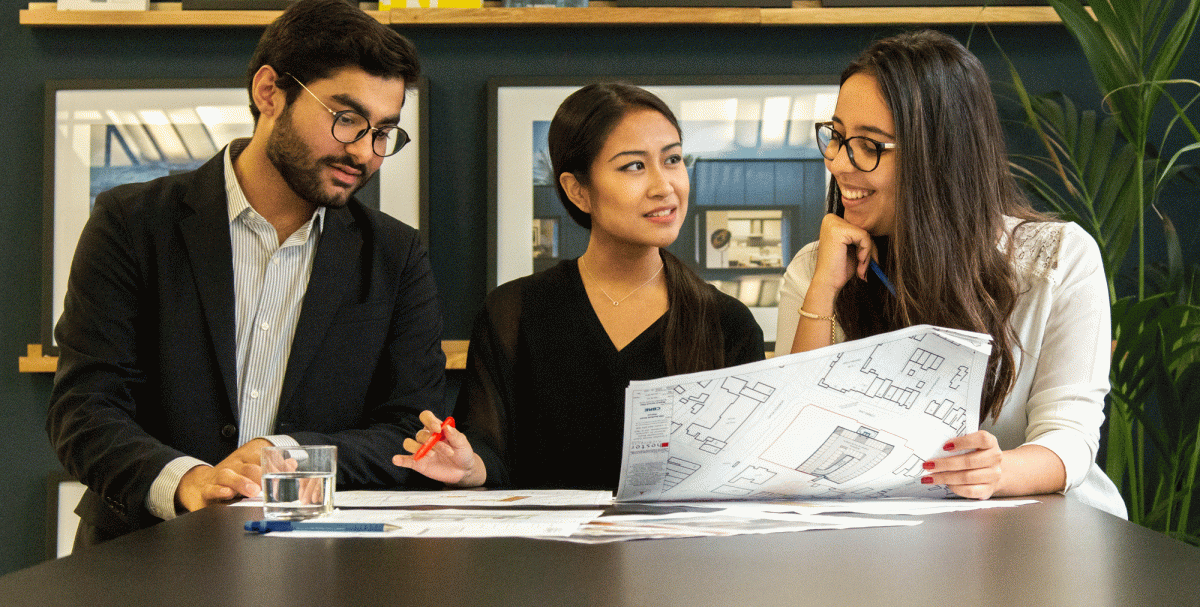 ---
We're proud to facilitate a supportive environment for graduates entering the first phase of their careers.
We caught up with some members of our graduate team to give readers an idea of the environment we foster at Apex, the type of graduates we look for, and the various opportunities we have available.
We know that taking your first steps into the working world can be intimidating, which is why we want to give our graduates the chance for growth they deserve during this critical stage of their career. Our graduate hires are given the opportunity to work across New Business, Research, Finance, and Construction in their first three months before specialising in a specific field.
Find out their take:
Catriona Hyland, Research Analyst

'I wanted to work in a disruptive start-up environment as I was keen to gain experience in multiple areas of the real estate sector.' 
Catriona is twenty-two and grew up in Brighton, Sussex. After reading Architecture at the University of Cambridge she undertook an internship in real estate research tracing global real estate trends and the impact investing market. Catriona developed an interest in smart cities and urban development and was drawn to Apex's innovative solution to the urban housing crisis. In January 2019, she joined the team as our first graduate hire.
Catriona works as our Research Analyst across multiple areas of the business, with an emphasis on strategic market research for the investment team and collaborative Research and Development grant funding.
Kirill Reshetov, New Business Associate

'With Apex's business model the opportunity cost is essentially 0 – we're not displacing anyone, demolishing anyone's homes or using up scarce land. If Apex weren't there those homes simply wouldn't exist.
Working in a start-up environment appealed to me as I wanted to have more responsibility than one would have in a larger firm and to have exposure to all aspects of the development cycle from cradle to grave.'
Kirill is twenty-three and grew up in Russia and Oxford. After completing his degree in Architecture and Land Economy at the University of Cambridge, we were delighted to bring him on board as an Associate to our New Business team. Kirill's key roles include sourcing and bidding on new sites for airspace development and carrying out research reports.
Kirill was compelled to work somewhere that does positive work to address the housing crisis; he was attracted to Apex's business model after he became critical of the focus on demolition within traditional estate regeneration and the associated displacement of residents and large embodied energy.
Ali Amin, New Business Associate
'I have a passion and ambition for social entrepreneurship both in the Middle East and in London, and I appreciate the positive social and environmental impact that Apex has, especially in terms of giving more affordable homes to those who need them most.  
Apex's fast paced environment means I have experience in various key business areas, including airspace acquisitions; airspace design & delivery; equity fundraising; and development financing'
After completing his Law degree at the London School of Economics and Political Science and undertaking an internship at a law firm in Dubai, where Ali grew up, he joined the Apex team.
Ali's legal background has helped him to understand and interpret business challenges and translate them into process solutions for increased operational effectiveness. He works across both the Construction and New Business teams.
Robin (Hong) Bui, New Business Associate
'My role comprises of working with the development team, with a particular focus on Airspace Development projects within London Borough estates. It's exciting to work on these projects as they are opportunities for Apex to expand our portfolio of units within commitments to affordable housing delivery'
Robin grew up in Vietnam and is currently studying Urban Planning and Real Estate at University College London.
She works as a New Business Associate part-time alongside her University commitments, after undertaking a summer internship. Robin has now been at Apex for three months and was drawn to the team through her interest in urban spatial development and smart cities.