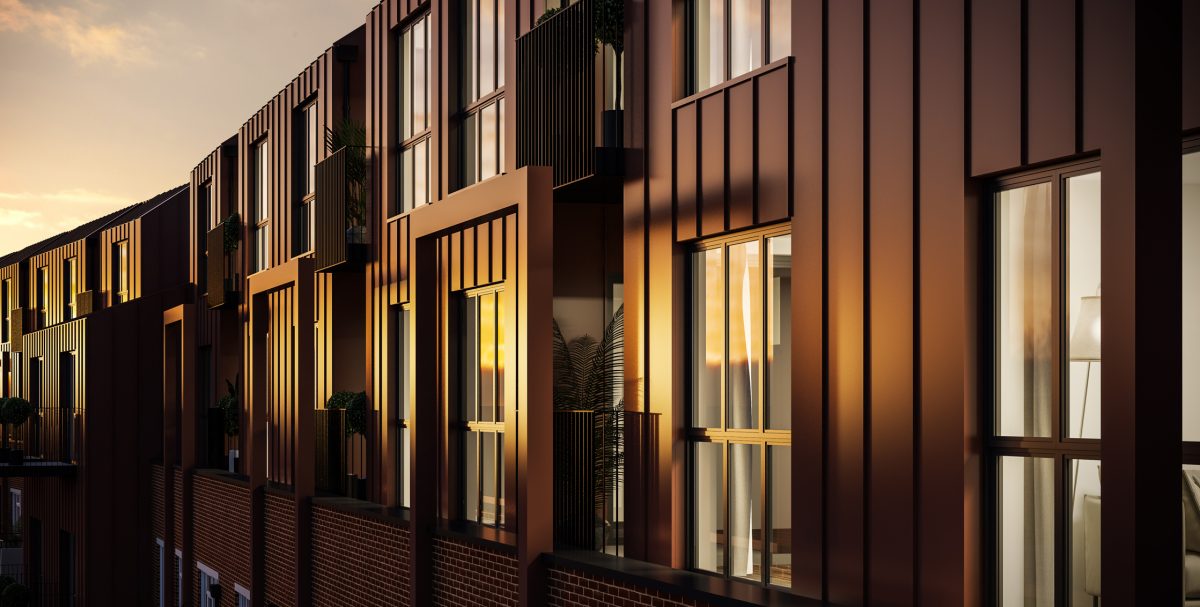 ---
Apex Airspace has appointed Adston as the Design and Build Contractor for the development of Antony and Roderick House in Bermondsey.
The new homes at Antony and Roderick will be built in partnership with Lambeth and Southwark Housing Association (LSHA).
About the development
All 30 new homes will be affordable, with 24 offered as London Affordable Rent, and the remaining six offered for Southwark Council's Social Rent. The development will include 'bookends' at each end of the existing buildings, a new central core connecting the buildings, and a double-storey rooftop extension. A bespoke steel structure has been developed to carry the weight of the new homes, enabling the existing buildings to carry the extra loading of the new homes.
The airspace and infill at Antony and Roderick will be a mixture of one and two-bedroom apartments, benefiting from a contemporary design with open-plan kitchens and living areas, floor-to-ceiling windows, and outdoor amenity space. The homes will be highly insulated, water, and energy-efficient, to reduce energy bills for all residents. The works will also help to address issues of overcrowding in the existing buildings by providing flexibility for existing over and under occupation.
The units occupying the double storey rooftop extension will be built off-site using modular construction methods, the bookends and infill will be built using a panelised fabrication MMC system to ensure high-quality homes while reducing time on site. This approach means less disruption to existing residents who will also benefit from the introduction of a lift to the buildings, communal entrance, landscaped forecourt, extra lighting, cycle storage, and additional storage for refuse and recycling.
About Adston
Adston is a specialist general construction, fit-out, and modular contractor, providing a dynamic and innovative approach for over 30 years' in the built environment sector. Adston's expert teams use cutting edge construction technologies and professional project management systems for every design and build.
In the company's role as Design and Build Contractor for Antony and Roderick, Adston has engaged a number of core consultants to help with the build. This includes modular and off-site construction experts HKR Architects to lead the design process, engineers from CS Consulting Group to support on the civil/structural elements of the build, and JSM & Associates as the services engineers responsible for the sustainable and economic delivery of the new homes.
David Rainey, Business Development, Adston, says:
Antony and Roderick House is a fantastic project to be involved with. Adston are delighted to be appointed by Apex Airspace for the design and delivery of the new homes. This is an innovative and new direction in the expansion and extension of existing buildings, and the first of many sustainable residential developments of this type.
Jonathan Poole, Construction Director, Apex Airspace, says:
We are looking forward to having Adston on board as our Design and Build Contractor for the development of Antony and Roderick House. The 30 new homes will be the first of their kind, as a 100% affordable airspace development, on top of and connecting two existing residential buildings.
Mark Jackson, CEO, LSHA, says:
LSHA are pleased to be a partner in this innovative project. As a small housing association, it is always rewarding to be at the forefront of design innovation. With a 90-year legacy of meeting the housing needs of residents in Lambeth and Southwark we are committed to the delivery of safe, sustainable and affordable homes for local people.