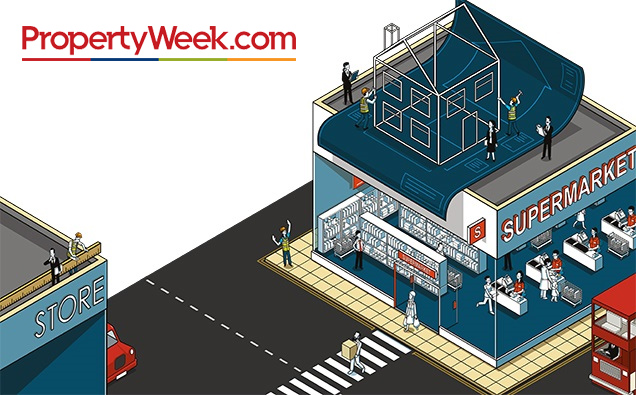 ---
There's a new grocery space race under way, but this one doesn't relate to bricks and mortar – it's all about the space above the store.
The new battleground is over air rights, and it's a fight that is seeing grocery retailers looking to team up with housebuilders to deliver new homes above their stores and, in the process, potentially generate a cash windfall.
And it's not just the grocers who are trying to get a piece of the action. Property Week understands that DIY retailers such as B&Q and retail park and shopping centre landlords – and even the Royal Mail – are exploring opportunities above their buildings.
The scope for residential above retail schemes is potentially huge – GL Hearn estimates a minimum of 150,000 units could be delivered above London retail stores alone. So how do air rights developments work and which companies are leading the charge?
Sticking residential units above shops is clearly not new. "If you think of the traditional UK high street, historically it was retail on the bottom and residential above," says Andrew Thompson, a director in the building and project consultancy team at Savills. "It's a classic model so we know it works."
If you're an estate manager at a retailer, what you see is lots of black roofs in prime-asset areas – Andrew Thompson, Savills
However, most of these mixed-use buildings were designed and built from scratch with dual occupancy in mind, whereas the new generation of air rights developments involves retailers allowing housebuilders to put residential units above existing stores.
The area is attracting a lot of attention at the moment, says Thompson.
"If you're an estate manager at a retailer, what you see is lots of black roof and they have got a lot of black roofs in prime-asset areas," he says. "That's why so many retailers are looking at this."
Although numerous retailers have already explored the potential of doing air rights developments, relatively few examples have been built out and many are still trying to get to grips with what can and cannot be done.
It is not, however, as complex as it might initially appear. Basically, freehold owners own the air rights space above their stores up to the point where civil aviation rights kick in and, in theory at least, you can build up as far as the structural integrity of the building will allow.
The caveat is that developments of this nature obviously require planning permission, so rights-to-light laws and other standard restrictions will be taken into account by planning departments when considering applications.
Site potential
One of the early movers in such development is Tesco. It has identified 20 air rights sites in London capable of delivering in the region of 9,000 residential units in total and estimates that building out these units could help generate as much as £400m. It is already working on one scheme in Hackney where it aims to replace its existing Morning Lane store with a smaller store plus 245,000 sq ft of new homes.
Sainsbury's took a similar approach with the redevelopment of its Fulham store. Rather than build directly above the store, it moved the store to another part of the site and put it on stilts, with car parking underneath, so that it could accommodate new residential development. It subsequently went on to do a similar development at its Vauxhall store.
Rival grocery groups are also looking to dabble in this area. Morrisons is working on one air-rights-related residential scheme above its store in Camden and is "tentatively seeing how it works out", according to one industry source. It is also understood that Asda is currently exploring opportunities within its store estate.
Val Bagnall, business development director at Apex Airspace, a developer that specialises in building out space above existing residential and commercial properties, says the company is talking to "five of the top six grocery retailers about the potential to work with them on [air rights] schemes", with one scheme for 24 flats in London due to move to the pre-application stage in the next few weeks
"This all started in the grocery sector, but it's now started to spread across the retail sector," says Bagnall.
"There has been a slow awakening to the value of these assets and you've got a lot of copycat activity going on. Everybody is looking at it now."
Basic land economics
It's not just retailers who are looking to exploit this new opportunity – and it is not just residential development that is being considered. "It's anyone who has got an asset in a location where no one can develop," says Thompson. "It comes down to basic land economics. When development sites become scarce, people have to become more innovative in their approach."
He cites the Army & Navy Club on Pall Mall. At the club's recent AGM, members approved plans to undertake a major development of the site in conjunction with Helical. The agreement will see the club retain space for members on the ground floor with Helical building new commercial office space above.
When development sites become scarce, people have to become more innovative in their approach – Andrew Thompson, Savills
"It's all about this concept of retaining the asset, but allowing people to build above you," says Thompson. "People are looking at this in a whole mix of different ways to make sites and opportunities happen."
Take retail parks. They may not seem like an obvious fit for residential development, but it is rumoured that a number of park and shopping centre owners are exploring this option.
Richard Curry, partner in the retail and leisure agency team at Rapleys, believes the idea has legs.
"There is an avenue to be looked at here," he says. "And I don't think the DIY retailers are going to be as affected by loss of trade as some of the grocers, who are potentially losing out on customers doing their weekly food shop [while building works take place]."
This potential loss of trade is the major stumbling block for a lot of retailers in particular, according to Richard Kitching, development director at GL Hearn, who has undertaken work in this area for a number of retailers over the past 18 months or so.
"Many of the food retailers don't want any impact on their business at all," says Kitching. "We've looked at it with a lot of them over the years and different members of our team have spoken to them, but the difficulty is convincing the operational side that it is worth the hassle."
Business as usual
The key for these retailers is maintaining trade while the residential units are being developed above their stores.
"You can't just put a podium above an existing retail space," says Kitching. "What you've got to do is plan a full redevelopment and retailers have got to be decanted and phased back in. They've got to move their operations into marquees and some retailers just won't do that because we're talking about high-value products."
This issue will undoubtedly put many retailers off pursuing air rights opportunities, but Apex believes it has come up with an innovative solution that addresses the problem.
Tesco aims to replace its existing Morning Lane store in Hackney with a smaller store and new homes – Source: Shutterstock/Julius Kielaitis
"Retailers want to keep their store live and do [air rights developments] at the same time, so we use offsite-constructed units that are 98% complete when they come to the site," says Bagnall. "In terms of the disruption to stores, we can minimise that and we have a fast delivery timeline as well."
The developer can also help occupiers establish what plan of attack will generate the best return. "One of the retailers we are talking to at the moment has a single-storey building that it wants us to build on, but we went back to them and said: 'Have you thought about demolishing the store and rebuilding the whole thing?'
"They would have to close the store for around 18 months, but we could demolish the store, give them a bigger footprint and put up to 10 storeys of residential on top, which will generate perhaps 10 times more site value for them."
Regional potential
So far, the majority of air rights activity has focused on London, where land and new residential development opportunities are scarcer and residential values are higher.
However, Bagnall thinks that the approach can work just as well in other major cities and even some coastal locations in the UK.
"We are talking to a couple of retailers at the moment who want us to look outside London for them and we are also working with several councils outside the capital who are keen to look at this," he says.
Based on the current level of activity, it looks as though this new space race is about to pick up some pace.